Synopsis from Goodreads: Behind every squad, there's a story.Welcome to the world of high school cheerleading.It's fall of their freshman year, and Chloe, Kate, and Emily are excited to take their places on the Northside High JV cheerleading squad. But when newcomer Devin arrives on the scene, she unwittingly shakes up the girls' tight friendship and rattles Chloe's confidence. With regional competitions right around the corner, though, this is no time for the squad to fall apart-building a human pyramid takes teamwork, after all!Chronicling the dramas of best friends, first boyfriends, and freshman year, this spirited series has something for everyone-whether or not you can rock a high pony.Get fired up for the first book in a brand-new series created in partnership with Varsity, the world's leading cheerleading brand.

Date of publication: September 3rd, 2013
Number of pages: 262
My review: As cheesy as this cover looks this was actually a really good book! It had that sort of innocent feel about it since it focused mainly around freshmen high school girls. I like how the book really delved into some issues that girls feel when entering high school (older guys, more homework pressure, juggling extra curricular activities, etc) while also continuously talking about cheerleading.
I myself am not a cheerleader, but you really don't need to be to enjoy this book! It was very cutesy, and extremely fast paced, so you were never bored. Subliminally Game On also taught some good lessons about friendship, teamwork, and high school in general.
I would definitely recommend this to girls who are entering high school, or are currently in high school, and maybe to those kids who have already graduated since it sort of brings back the nostalgia of cheerleaders cheering on your football team. Good times, good times.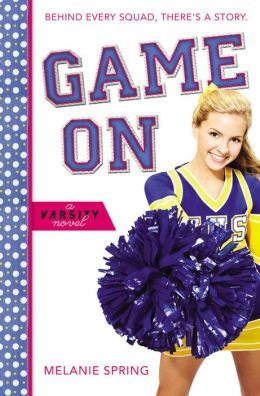 The only thing I didn't really like about Game On was the cover! I'm hoping they'll make some changes to it before it's released because it's just too cheesy. I guess it makes sense considering what kind of audience they're trying to target, but if it had a more sophisticated look I think it would be able to appeal to a larger variety of people. Although the cover pictured above is SO much better than the cover that I found on Barnes and Noble's site (see right). The black there makes it look more mature.
See you soon!